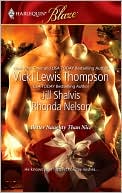 Every year from Thanksgiving to New Year's Day it's my unofficial Anthology Season. I gorge myself on holiday stories -- Christmas, Hanukkah, whatever -- and most tend to come in anthology format. This year's
Blaze
Christmas anthology,
Better Naughty Than Nice
, by Vicki Lewis Thompson, Jill Shalvis, and Rhonda Nelson provided the most solid of the new anthologies I've read this year. None of the stories wowed me, but I found all three to be pretty enjoyable.
Click here to read my full review at AAR
. I also read this book as part of the
2009 Holiday Reading Challenge
.
Disclosure: I purchased this book myself.