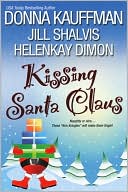 My review of the
Kissing Santa Claus
anthology by Donna Kauffman, Jill Shalvis, and HelenKay Dimon is up over at AAR. I had high hopes for this Christmas collection, but two of the stories turned out to be meh. I did, however, really like the Jill Shalvis entry,
Bah Handsome!
, so I'll keep the anthology just so I can re-read that one next year.
Click here to read my full review
.
Disclosure: I received this book free as an
AAR
reviewer.